</P>


LETTER WRITTEN BY
MR. ELLIOT WOLF
IN HONOR OF THE FIRST REUNION HELD IN
NEWPORT BEACH, CALIFORNIA MAY 1995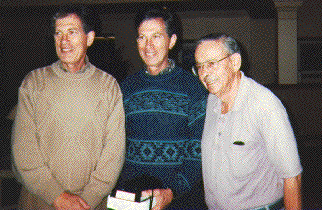 Elliot Wolf, Jeffrey Wolf and Norman Sandler



In a society that has become accustomed to the disposability of all things, and where, in fact, nothing is expected to last, it is reassuring that reunions; that rely on enduring human relationships are so meaningful. Of course, for the older generation memories of the past are all the more vivid and important, and for that reason for those, like me, a reunion with past students is so poignant.
In my opinion, your having settled in the U.S.A. adds to ,the significance of a King David Alumni reunion, for there is something in all of us that hankers after the familiar that is no longer available to us, and we enjoy sharing common experiences with others from our past, perhaps even because "distance lends enchantment".
It is with great excitement that I look forward to seeing you all and to re-establishing old ties. No doubt, the ravages of time may well have played their part on our outward appearances, (more so on mine) but I feel sure that recognition should present no stumbling block to our resuming our communication as it was years ago.
I eagerly anticipate our reunion and exchanging reminiscences from our shared past.

Best wishes,
ELLIOT WOLF