KING DAVID ALUMNI OF NORTH AMERICA
c/o AFSAJE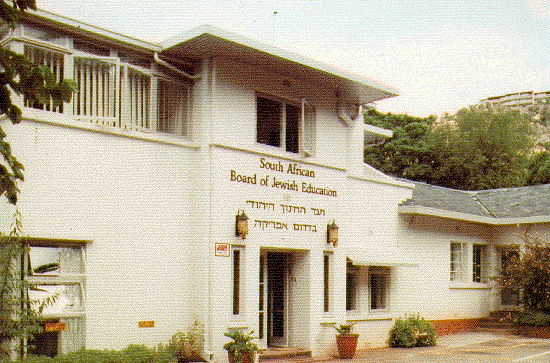 Message From Our President: Rabbi Yitschak Rudomin
King David Alumni of North America and AFSAJE plan to function as a true Alumni Organization by:
1) Creating and fostering a social and professional network of King David Alumni and their friends living in North America. For example, this could be of immense value to new immigrants who need quick and helpful contacts and assistance.
2) Promoting and keeping alive the Judaic and Educational values we learned in our youth.
3) Showing our gratitude and support to the vital work of the South African Board of Jewish Education and the "Jewel in its Crown": - The King David Schools, with financial assistance.
I look forward to your enthusiastic participation and support in the weeks, months, and years to come!


Yours sincerely,
(RABBI) Yitschak Rudomin(M.A.)
PRESIDENT: AFSAJE
CO-CHAIRMAN: KING DAVID ALUMNI OF NORTH AMERICA
---
Letters Written in Honor Of the First Reunion Held in Newport Beach, California May 1995:
Message from Mr. Norman Sandler, former Headmaster 1955 - 1973
Message from Mr. Elliot Wolf
Message from Mr. Jeffrey Wolf, Headmaster
Message from Mr. Doron D. Grosman, Co-Chairman
---
Please click below for informative and exciting links:
King David Schools and South African Board of Jewish Education
King David School, Linksfield, Johannesburg
King David Schools Foundation
---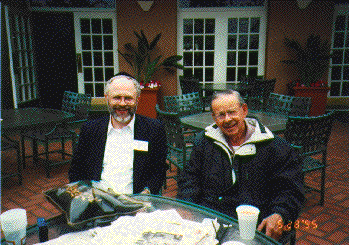 Rabbi Yitschak Rudomin and Mr. Norman Sandler
at the 1995 reunion


Rabbi Yitschak Rudomin
Director of J.P.I.


Please contact us at:
KING DAVID ALUMNI OF NORTH AMERICA
c/o AFSAJE
1638 East 21st Street,
Brooklyn, NY 11210-5038
United States of America
Tel: 718-382-8058; Fax: 718-382-3508

rudomin @ jpi.org
rudomin@jpi.org
---
(c) Copyright 1997-2007
KING DAVID ALUMNI OF NORTH AMERICA c/o AFSAJE
All rights reserved worldwide
---
Produced by Tri-Tech Associates, Inc.
Last Modified: February 2, 2007