</P>


LETTER WRITTEN BY
MR. JEFFREY WOLF, HEADMASTER,
IN HONOR OF THE FIRST REUNION HELD IN
NEWPORT BEACH, CALIFORNIA MAY 1995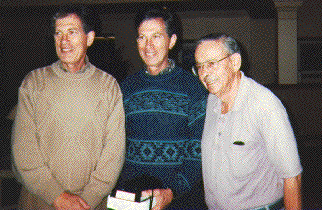 Elliot Wolf, Jeffrey Wolf and Norman Sandler


My long association of 27 years with King David Victory Park has been a rewarding and fulfilling experience studded with many highlights but none such as the opportunity now afforded me as I complete my 20th year of headmastership - that of meeting you, our American Davidians, in far away California.
In an age when modern technology has made direct human contact fairly dispensable, it is so reassuring for me to know that, in spite of the machine, there can be no substitute for the immediacy and warmth of a face-to-face meeting. Your generous invitation to join all of you in this exciting reunion is for me, of course, very flattering but also a little unnerving all these years later I meet you not as pupils but as adults and parents of adolescents yourselves!
Though thousands of miles away, your strong Davidian identification and bonding have surfaced in the wonderful reunion that you have planned. Thank you for making this possible! I look forward with keen anticipation and pleasure to meeting you all.