</P>


LETTER WRITTEN BY MR. NORMAN SANDLER,
FORMER HEADMASTER 1955 - 1973,
IN HONOR OF THE FIRST REUNION HELD IN
NEWPORT BEACH, CALIFORNIA MAY 1995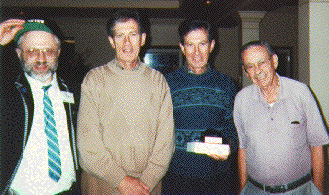 Yitschak Rudomin, Elliot Wolf, Jeffrey Wolf and Norman Sandler


Coincidentally the U.S. Reunion will also celebrate the 40th anniversary since I assumed the Headship of King David High School. Those were heady days worth recalling. Without your enthusiasm, esprit de corps, undoubted talents in many and varied spheres, scholastically, culturally and athletically, you may not have foregathered to relive the way it was. Your achievements professionally, vocationally and entrepreneurially, in whatever careers you have undertaken, are legion. I salute you! Let us have an enjoyably, emotionally nostalgic reminiscence.
Your honoring three headmasters whose aggregate of services tallies nigh on 60 years, suggests they have left footprints on the sands of time.
A final thought. May you continue to tread your own paths, never shelter behind received opinions and never mistake a mirror for a window. Strive to be happy!